Tortilla Making with Julia Gomez
Cota and other New Mexico Remedios with Julia Gomez
By Olivia Harlow of the Santa Fe New Mexican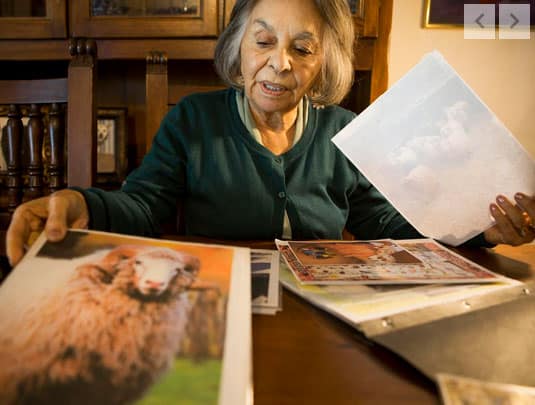 Longtime Traditional Spanish Market artist Julia Gomez has become an international ambassador for New Mexico's heritage crafts.
For the past four years, Gomez has showcased her colcha embroidery at a folk art market in China called the Belt and Road International Forum for Cultural Heritage Cooperation and Exchange & Handcrafts Fair. She represents not only Santa Fe but the entire U.S. at the market, which hosts artists from 20 nations.
"I am the only American there," she said.
Gomez dons a fiesta dress and cowboy boots for the market as part of her effort to raise awareness of the Spanish Colonial craft.
"I want [the world] to know about it," she said.
Gomez, 78, a retired teacher, learned to embroider from her mother when she was about 10, stitching small designs on pillowcases and tea towels.
In the 1980s, she read a book about colcha and enrolled in a class taught by embroiderer Monica Sosaya Halford at the Museum of International Folk Art. In the 2000s, after Gomez had retired from teaching at De Vargas Middle School, weaver Beatrice Maestas Sandoval introduced her to El Rancho de las Golondrinas, a living history museum in La Cienega that raises Churro sheep and harvests their wool. She then began to immerse herself in the craft.
"I love the story of the sheep," Gomez said, crediting the animals with enhancing her passion for the traditional craft.
Originally from Spain, Churro sheep were brought to the Southwest in 1598. The breed thrived in the desert climate and their wool was integral to keeping Spanish colonists warm during winter.
"The settlers and explorers, they lived off those sheep," Gomez said.
She helps gather wool at Las Golondrinas after the sheep are sheared. Then she skirts the fleece, removing its dirty edges, cleans it, spins it and colors it with natural dyes made from marigold, onion skin, Navajo tea and cochineal beetles.
"And then, if you have any energy left, you embroider," Gomez said with a laugh. "The embroidery is just one small part of the process."
Stitching just one flower can take nearly eight hours, she said, and completing a full piece can require up to two weeks of daily work.
She says she enjoys every step of the process. "It's very relaxing and it's rewarding," she said.
Her appearance at the folk art fair in China was prompted by a visit several years ago from an official from the Chinese government who attended the International Folk Art Market in Santa Fe. Gomez said the woman visited Las Golondrinas, where she met Gomez and learned about colcha embroidery. The following year, the woman emailed Gomez an invitation to the newly launched festival in China.
Gomez attended for the fourth time in mid-November, she said. Her invitation always arrives just two to three weeks before the fair, "so you have to hustle," she said.
But showing at the fair is worth the effort — the Chinese government pays the airfare and hotel for her and a guest.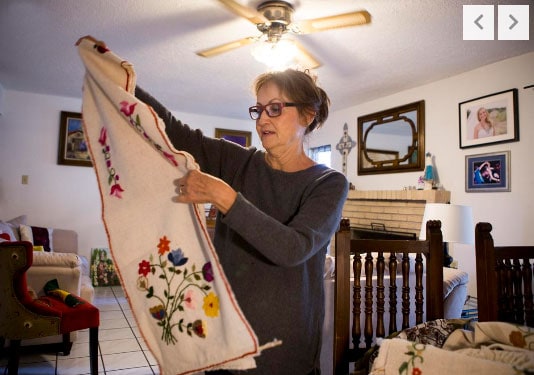 In November, Gomez brought a close friend, Barbara Romero Alba, who also is a colcha artist. The women arrived in Jinguan for the five-day market, which is held in a different city each year. Afterward, they made a quick trip to Beijing to visit Gomez's daughter, Saramaria Gomez, who teaches English there.
The goal of her participation in the market, Gomez said, is to connect with people from all around the world.
"Now I have friends in Nepal, in India, Belgium, in Holland," she said, adding, "I want to be a good ambassador."
She brings a map of the U.S. to her booth at the market, with a circle around New Mexico and images of Churro sheep. Assistants write Chinese translations on the map and photos for guests to better understand the context of colcha.
"The Chinese really don't know much about the United States, and they were really interested in and fascinated about New Mexico," Gomez said.
Gomez and Alba, both Santa Fe natives with roots in the area that date back generations, want to bring that same awareness of local culture to younger people in their hometown. Their mission is to keep the art of colcha alive.
"I do feel like we're losing our culture," said 70-year-old Alba. "Our ancestors did this kind of work. … But our grandkids, they don't know our culture because you can't get 'em away from their phones."
She added, "We want to take history and put it in the children's hands. I want to keep it going."