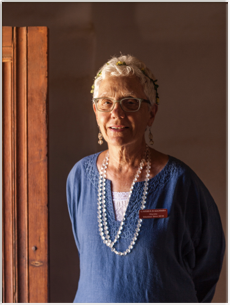 We, Marsha and Jim Meehan, have been volunteering at Las Golondrinas since 2018.
Retired IT professionals from Wethersfield Connecticut, we first became interested in history through our involvement with the local Historical Society where Marsha was a member of the Collections and Exhibits Committees, and an event volunteer. Jim served on the Governing Board, edited and wrote for the society's "Articles from the Community" website and helped out at events also. In addition Marsha was active in local knitting and Book Groups and Jim was a longtime member of the Men's Garden Club of Wethersfield.
We first came to Santa Fe in 1992 for our 25th wedding anniversary and returned at least once a year ever since then. In May of 2017 we were able to retire to the City Different. We had visited Las Golondrinas on several of those trips and El Rancho was at the top of the list for places to volunteer when – after house hunting and settling in – we were finally able to in 2018.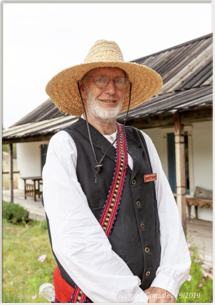 With little knowledge of New Mexico history we appreciated the good training and welcoming atmosphere that allowed us to quickly feel comfortable as docents. We also really like the opportunity to try various things at the ranch. In 2018 and 2019 Marsha could normally be found in the Weaving, Spinning and Colcha area, while Jim would usually be working at either the Big Mill or Sierra Village. We especially enjoy being anonymous ghosts at Spirits of New Mexico, helping Julie Anna in the gardens, and (slightly less) spring cleaning the dirt floor buildings.
But mostly it is the people — staff and fellow volunteers — an interesting, intelligent and friendly group who make it so much fun to be a part of such a worthwhile organization.
When not in costume Marsha enjoys knitting increasingly complex projects, and reading. Jim likes to spend his time researching and writing about NM history and culture — and sharing that info via bimonthly "email blasts" with a group of longtime CT friends.