Staff Spotlight: Sean Paloheimo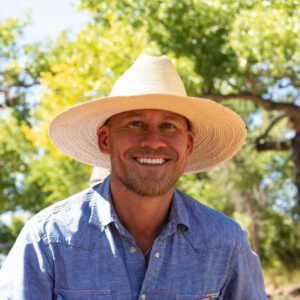 In our never-ending quest to inform and enlighten our Las Golondrinas supporters, we are happy to introduce a new column introducing you to our hard-working staff! One of the people who wears the most hats here at the museum is Assistant Museum Director/Director of Operations Sean Paloheimo. If that last name is familiar to you, it's because the land that Las Golondrinas stands on was once owned by the Paloheimo family. Sean's parents, grandparents and great-grandparents are responsible for giving this amazing and one of a kind property to all of us, and we are so grateful for this gift!
Sean was born at Christus St. Vincent Hospital and grew up right here on the museum grounds, in a house up on the hill behind the schoolhouse. He remembers spending long days riding bikes and getting into all kinds of adventures with his brother George, his closest friend and playmate. Sean attributes his love of outdoor sports, camping and adventures with growing up at Las Golondrinas. The family moved to a house on San Antonio Street when Sean was 10, and he has fond memories of being a teenager living in the city. He attended Pinon Elementary and St. Mike's for middle and high school.
Sean is the second most tenured staff members (Julie Anna Lopez is number one!), starting with his first volunteer position — pulling weeds at age 10. He started getting paid at age 12 to handle such tasks as cutting thistles in the sheep pasture, raking leaves and organizing the utility yard.
After graduating high school, Sean studied photography at UNM. He soon found his passion lay more with jewelry making, which he studied and continues to create to this day. Getting the urge to leave the southwest for a while, Sean moved to Bend, Oregon, where he continued to study, snowboard and learn wilderness emergency rescue skills. He returned to Las Golondrinas and lived in an unplumbed house on the property for a year.
Sean met his wife Jill in high school, but they didn't date until later. She got a job in New Orleans after college and Sean was able to work there during the Golondrinas off season and would return here for the summer and fall. The couple live in a home on the property, up the hill from the public area.
Sean's typical day can feature any number of things, from fixing a roof to setting up electric for a festival to scheduling vet care for one of the churro sheep. Sean is in charge of day-to-day museum operations, the animal husbandry program and the planting schedule for the fields. Like everyone who works at Las Golondrinas, his "other duties as needed" list is long and diverse.
In his off time, Sean enjoys snowboarding, fishing, camping and lots of other outdoor activities. He is a seasoned musician and plays guitar every day as a form of meditation and a way to unwind. He continues to make and show jewelry at local art fairs, and has incorporated glass blowing into his work.
Sean's favorite Las Golondrinas event is Harvest Festival. He says, "It's the oldest event and it's what we do best — Harvest shows off all the best things that our museum has to offer."
Next time you are out at the museum, look for the fast-moving man with the big hat and the bigger smile and say hello — and give thanks that Las Golondrinas has this employee who has given his artistic talent to this land — in Sean's words, "Las Golondrinas is my canvas — it's my 20-year masterpiece."