by Laura Gonzales, Education and Volunteer Manager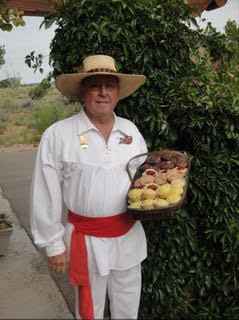 If you have enjoyed the homemade muffins, turnovers and other baked treats that appear on the kitchen table in the Volunteer Casita when Keith Austin is at the Ranch, you may thank a decision he made many years ago.
Born in Mount Ayr, Iowa, he was soon transported to rural northern California, where his parents settled on a farm in the small community of Potter Valley. Keith still has vivid memories of long hours picking and sorting pears in the local orchards to earn money for the upcoming school year. Upon graduating from high school, he was faced with that universal question: What shall I do with the rest of my life? The answer lay in a trade school in Seattle, WA, where he acquired the skills that eventually led to a career in many of the best bakeries in the San Francisco Bay Area and, yes, to those delights that grace our own Casita kitchen.
Keith met his partner of forty years, Donald Coleman, in that Bay Area setting. The two moved to Sonora, in the foothills of the Sierras, where frequent visits to Keith's mother and stepfather there had convinced them that this was the perfect retirement locale. This was a "fatal" step, since both of the elders were volunteers at Railtown 1897 State Historic Park in nearby Jamestown; it wasn't long before Keith and Donald were donning the requisite black cap, string bow tie, and vest of the well-known conductor's uniform, and holding forth on the history of the Sierra Railroad and the surrounding Gold Rush country to guests on the railroad's steam operation.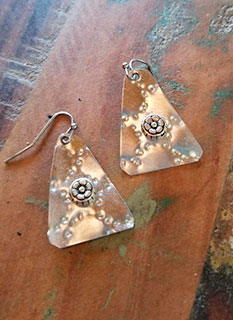 After nine years in Sonora, and many vacations in New Mexico, the pair made another fateful decision: departing the Sierra foothills for the high desert of Santa Fe, arriving on June 6, 2006 (D-Day!). So much to see, so much new territory to explore. That included a visit to El Rancho de las Golondrinas, touted as one of the premier attractions in the area. While there, they dropped by the Gift Shop; learning of their background, the shop's manager, Barbara Furr, grabbed both by the collar and announced, "You're going to be volunteers here!" And so it was. That was fourteen years ago. Both have become fixtures around the Ranch, usually volunteering twice a week, ensconced in the historic buildings at the upper section of the property. Several years back, Donald gave Keith the birthday gift of a tin-making lesson, offered on-site by Jason Younis y Delgado, often seen at Las Golondrinas during fiestas.
Keith took to the new skill set, and now can be seen demonstrating his tinworking artistry at the entrance to the Chapel. Both Keith and Donald received the coveted Volunteer of the Year award for 2014. Keith sums up his experience at Las Golondrinas with this sentiment: "I really love working here. All my fellow volunteers and the staff, it's like a big family."