Volunteer Voices: Jerry Kerr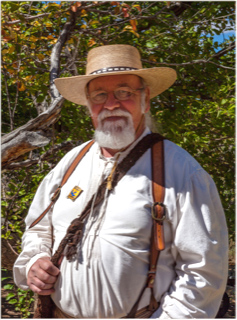 I was born on October 25, 1949. I am entering my seventh season as a volunteer at El Rancho de las Golondrinas, and anxiously awaiting the end of the COVID-19 social distancing measures. I began volunteering at the ranch because of my abiding interest in the preservation and promotion of New Mexico's distinctive history.
My education in college and graduate school was in American Studies, with an emphasis on history and museums. I first moved to NM in 1973 and wrangled a job at the University of New Mexico's Maxwell Museum of Anthropology, in the Education Department, coordinating a program of suitcase exhibits with the Albuquerque Public School System. But, after the grant for that program was not renewed, my life took other turns toward restaurant management and legal administration.
In 1984 I left New Mexico for employment elsewhere, not to return permanently until 2011, after retiring from a career in corporate administrative services in the Baltimore/Washington, D.C. region.
Upon my return, I jumped at the opportunity to volunteer at El Rancho de las Golondrinas because it marked coming full circle back to my true first love. I enjoy everything about the ranch, and spend my time variously as an on-site docent, tour guide or demonstrator at El Molino Grande, the big mill. On festival weekends I am mostly to be found at El Molino Grande, while any other day I might be giving a tour and/or residing at one of our buildings on the ranch.
Being a volunteer at El Rancho de las Golondrinas has allowed me to continue to contribute to the community in ways that I feel are meaningful. It is a personally fulfilling avocation, and I am always gratified to see folks walking away from the ranch with a greater understanding of our history and culture. I like to think that this helps to reinforce the fabric of our society, while giving me a reason to dress in period clothing and be more than I usually am.