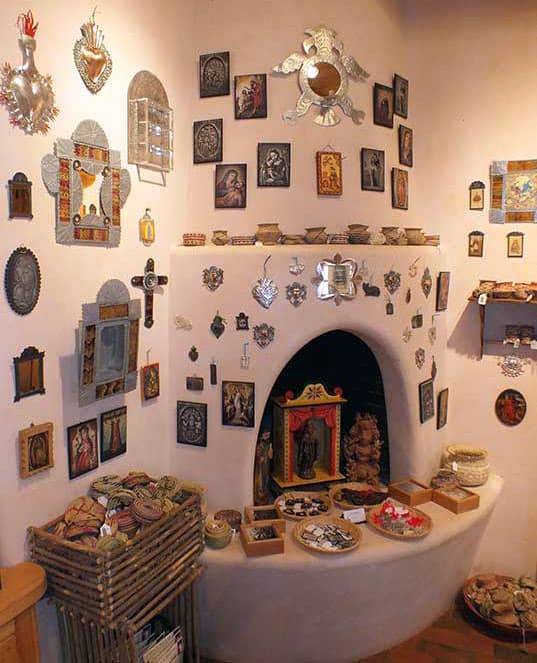 Have you been to El Rancho de las Golondrinas' gift shop, The Swallow's Nest?  It's not the same old store anymore!  In fact, that's the goal of the management and new sales staff — to make the store fresh and new each and every season!
Come in and meet our new sales team: Andrea Zamora and Cairn Cobb.  Both have joined us this year, and they will be happy to assist you. Both of these ladies can help you with information about the goods in our store as well as sharing their expertise concerning the Ranch, its history, background and historic structures. In addition they can provide our visitors, particularly those from out of state or out of country with recommendations on other local attractions, where to eat, places to stay, directions and little known facts about the area. Each possesses a wealth of knowledge about El Rancho de las Golondrinas, Santa Fe and New Mexico.
With a theme of "Take a piece of the Ranch home with you," The Swallow's Nest offers a wide variety of arts and crafts, merchandise hand crafted right here at the Ranch by our own artisans, yarns in a multitude of colors from our own Churro sheep, soaps and lotions, hand made period correct clothing, locally sourced jams, jellies, honey, spices, rubs and even sheep shaped lollipops!  There are beeswax candles, retablos and tinware from Spanish Market artists, jewelry, photographs, matted prints and giclées. For the historian, come and browse our large selection of sometimes hard to find books on Northern New Mexico history.  Children and the young at heart will delight at the large assortment of period correct toys, plush animals, puppets and, of course, our own little Josefina dolls and books.
Each season, and in fact, every month, the merchandise in The Swallow's Nest changes and varies — so the store you see today will not be the store you see on your next visit. Artist's works are varied and rotated routinely and new items are added almost every week!
The Swallow's Nest is open the same hours as the Ranch — Wednesday through Sunday, 10:00am to 4:00pm.  It is closed on Monday and Tuesday.
Come in and take a piece of the Ranch home with you today!