This month's volunteer profile features Rose Mestas Thompson shown here in the Golondrinas Placita.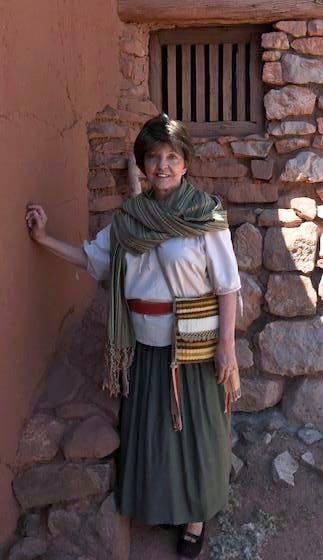 "A native Coloradoan, I attended Colorado State University, Ft. Collins, CO, majoring in American History and Anthropology. For the past ten years, I've been able to spend much of my time in New Mexico. My husband, John and I were fortunate enough to purchase a casita, located in the foothills, southeast of Santa Fe. It reminds us of a Colorado mountain cabin, but with the typical, beautiful architectural elements of New Mexico. Our daughter, Michelle and four grandchildren, Kayzha, Lauren, Ryan and Elena, reside in Colorado and yes — we all bleed Orange and Blue!
My time spent here allows me the opportunity to engage in my two favorite subjects — genealogy and the history of the Hispano Southwest. Volunteering at the Ranch has enabled me to indulge in my passion for both. It's been fun — really a pleasure — meeting so many locals and those from faraway places. But on a more personal note, volunteering at the Ranch has, in a way, truly brought me home!
I mentioned my interest in genealogy: family history. My ancestral roots run deep throughout the beautiful Cienega Valley. In fact, I descend from Miguel Vega y Coca (my 7th great-grandfather, 1676–1751) and two of his daughters, Apolonia and Feliciana. Miguel's granddaughter, Rosa Bustamante (1735–1814), my 5th great-grandmother, was the wife of Santa Fe Alcalde, Antonio Jose Ortiz (1732–1804), who is recognized by the Daughters of the American Revolution (DAR) as a verified Patriot. The Baca and Delgado families, who resided in the Golondrinas ranch area, are also my direct ancestors. So, it comes as no surprise, I tend to volunteer my time either in the Golondrinas Placita or at the Baca House.
The past eight seasons at the Ranch have enriched my life tremendously. And though having made numerous new friends, the biggest bonus for me as a Ranch volunteer, is finding New Mexico primos who too have familial connections to the Golondrinas area. I can honestly say — Colorado will always by my 'birth home' but El Rancho de las Golondrinas will always be my 'heart home.'"