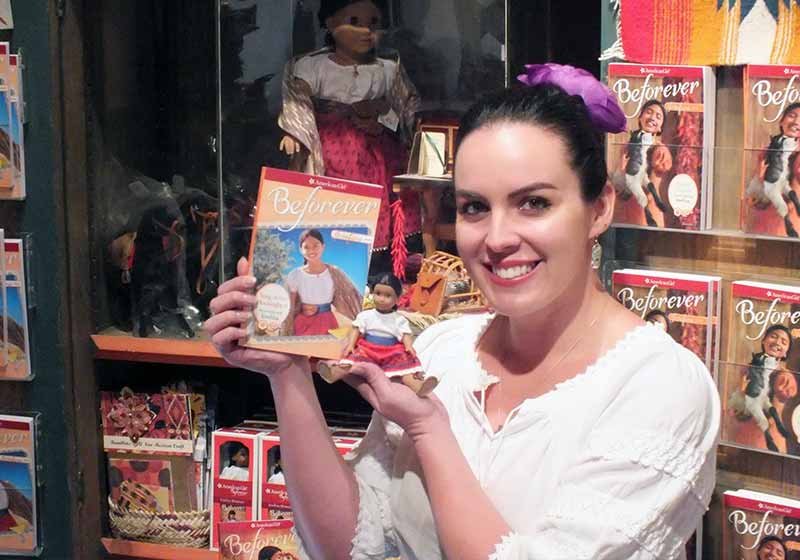 El Rancho de las Golondrinas is pleased to announce that our own Laura Gonzales-Meredith has accepted the position of Education and Volunteer Manager.
As the Education and Volunteer Manager, Laura will be responsible for the Museum's volunteer program consisting of hundreds of dedicated individuals, interpreter training, volunteer recruitment, planning our core mission-driven festivals and further developing our educational offerings. She will be working with the volunteers on a daily basis and collaborating with staff on enhancing our living history interpretation.
Growing up on a ranch outside of Las Vegas, New Mexico, Laura was surrounded in the traditions and cultures of our state's past, learning many of the old traditions from her grandparents who instilled in her an appreciation and respect for that past. A traditional northern New Mexican upbringing nurtured the deep affection for history she has today.  "Having this opportunity to share my passion with museum interpreters and visitors is something I look forward to." Laura said.
Laura comes to Las Golondrinas with extensive experience in interpretation and education, having worked at the Santa Fe Children's Museum, Fort Union National Monument, the Las Vegas City Museum and here at El Rancho de las Golondrinas. Laura has also researched and lectured extensively on Territorial New Mexico, including at our own "Speaking of Traditions" Lecture Series. She combines these capabilities with her experience as an adjunct professor of History at Luna Community College. Laura's past experience, outgoing personality, and extensive knowledge of New Mexico History, make her a great choice for the position.
"I am a caring, supportive and hard-working team player committed to the welfare and promotion of education.  I am very grateful for and excited about this new opportunity, and I am eager to begin working with the dedicated volunteers here at El Rancho de las Golondrinas!" she said.
Laura received her B.A. in History from New Mexico Highlands University and is a M.A. candidate in Public Affairs and History at Highlands as well.
Contact Laura at laura@golondrinas.org with all of your volunteer related correspondences. She is your direct line here at the Museum and is waiting to hear from you!