November 5 to 19, 2017
Reserve your spot today as only four spots remain!
Deadline to apply is just days away: August 1, 2017
• • • • •
I am happy to announce this opportunity for you to attend a cultural tourism workshop in Oña, Ecuador, a town founded by Esteban Morales Cabrera in 1539–1540. Board Member Thomas E. Chávez and Dr. Celia López-Chávez will be leading the trip as we engage with the community of Oña and the surrounding area. The town of Oña learned of El Rancho de las Golondrinas from Dr. Chávez and has invited us to organize a workshop to help the town find ways to showcase its history, and in many ways, function as a living history museum while maintaining its identity as a living community, listed by the government of Ecuador as a place of special historical significance.
I invite you to join us on what will be an incredible learning experience as we explore Ecuador and learn about its history and culture. Please see remarks from Dr. Chávez below and the exciting itinerary in store.
Daniel Goodman, Interim Museum Director
El Rancho de las Golondrinas
• • • • •
OÑA, ECUADOR
The community of Oña, Ecuador has invited us to organize a workshop using it as a focal point. The workshop will utilize conservationists of various disciplines to study the town of Oña and environs and make recommendations on what can be done to increase its cultural and historical visibility while becoming economically viable and maintaining its integrity. The experience of interacting with professionals from Ecuador and the United States while working and exchanging ideas with a local community in Ecuador that dates to the sixteenth century will be a rich learning experience for everyone involved. The workshop will include an informative meeting (or two) before traveling to Ecuador.
Two products will be produced from this workshop: a public forum in Oña and a written report in English and Spanish based on the workshop's conclusions that will be compiled by the project leaders. They will complete a draft and submit it back to the workshop participants for corrections and revisions before the final version is presented to the Community of Oña and the University of Cuenca.
ABOUT OÑA
San Felipe de Oña is the capitol of the county of Oña in the Province of Azuay and is 120 km south of Cuenca. The town is on the Pan-American Highway as well as the ancient Inca Trail that connected Ecuador (the birthplace of the last Inca rulers) to Perú. Oña, the town, was established by Esteban Morales Cabrera, one of Francisco Pizarro's captains in 1539–1540. The barrio de San Francisco, a few blocks off the town's main plaza, is the original site of the town. Today, the old barrio consists of two cobblestone streets, a series of various adobe buildings in various states of ruin and repair and a running acequia. "La Bella de París," one of the barrio's restored buildings, is the community's cultural center and will be the place where the workshop will meet during the stay in Oña.
The town is in the center of a rural environment where Condors nest, agriculture is the main source of income, and outdoor opportunities abound. The many archaeological sites dating, at least, to 6000 BC and up through the Spanish occupation are one reason that the area has been deemed a "Patrimony of Ecuador," a place of special historical significance.
DETAILS
The prices for single or double supplement listed below include the following:
All hotels (Quito on the way to Cuenca, Cuenca, and Oña)
All breakfasts, lunches, and dinners as marked in the itinerary
Airport transfers (We will overnight by the airport in Quito while traveling to Cuenca. Price does not include overnight on the return)
All local ground transportation, a full day excursion to Saraguro including lunch, transportation to and from Oña, and other excursions as needed in Oña)
Tour of the Pumapungo archaeological site and museum in Cuenca
Two lectures by local experts
Assistance from two local coordinators
Interpreters in Oña
A guided walking tour of Cuenca
A reception/orientation and dinner in Cuenca
A welcoming reception in Oña
A fiesta de despedida in Oña
A $225 donation to El Rancho de las Golondrinas to pay for round trip airfare for two representatives from Ecuador to visit and study cultural tourism, museums, and preservation in New Mexico.
El Rancho de las Golondrinas will accept a maximum of fourteen registrants and will go with a minimum of twelve.
COST
Single supplement = $1,585, plus airfare
Double supplement = $1,485, plus airfare
Note that airfare to and from Cuenca is not included. You must make your own arrangements (see section of Travel Particulars). However, we ask that you wait until we can confirm with you that we have enough registrations to make the trip a go.
(As of this writing, airfare including the Quito/Cuenca connection ranges from $1,308 to $1,700).
TRAVEL PARTICULARS
To get to Cuenca from New Mexico and, we assume, most of the United States, you must fly into Quito and overnight for an early morning flight to Cuenca. The hotel and transfers from and to the airport are included in the cost of the trip. At the proper time, Tom and Celia will notify everyone which flights they will be taking so that those who so desire can fly with them. It at all possible, we encourage all participants to make reservations on the same flight as the project leaders from Quito to Cuenca.
Otherwise, please feel free to extend the trip at your own expense.
Once you make your reservations, send your flight information to Tom Chavez at the email address below.
A chartered bus will transport us to the airport in Cuenca on the morning of November 19th for our return trip home or to other destinations. From here on, you are on your own.
PAYMENT
To sign up, a deposit of $250 per person is required to be deposited. Should you choose to cancel, $200 will be non-refundable unless a replacement is found in which case $100 will be non-refundable. Final payment is due prior to departure. If the workshop is cancelled, all monies will be refunded. Please make checks (no credit cards) payable to El Rancho de las Golondrinas — memo "Ecuador workshop" and mail to 334 Los Pinos Road, Santa Fe, NM 87507. If you have any questions, please call Tom Chávez at (505) 345-9684 or email at techavez.22@gmail.com
NOTE
To participate on the tour/workshop, you must be a member of El Rancho de las Golondrinas, Los Amigos del Museo. Membership is available on this site.
A registration form and the itinerary for the trip can be found below.
Link to Ecuador Registration Form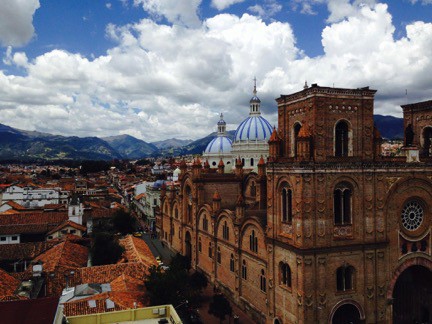 Cathedral of Cuenca, Ecuador
This is a once-in-a-lifetime opportunity for a very select few! Be the first to sign up for this fabulous trip!